Oceano-meteorological buoy Augusto González de Linares
This oceano-meteorological buoy was deployed on September 27, 2007, at the position 43º50'N 3º47'W, located 22 miles North of Cabo Mayor in Santander. Water depth at the buoy is 2850 meters. Parameters:
- Sea water temperature at 3 m depth
- Sea water slinity at 3 m depth
- Air temperature
- Relative humidity
- Atmospheric pressure
- Wind speed and direction
- Waves (significant wave height, height, period and direction)
- Currents at 9 m depth
- Chlorophyll-a
- Oxygen
Simple
Date (

Creation

)

2007-09-27
Purpose

This mooring complements other studies related to climate variability in Atlantic and Bay of Biscay waters which have been carried out by the Instituto Español de Oceanografía since 1991 both in the coastal (Radiales Project) and the oceanic (VACLAN Project) areas and satellite data (SST station).
Credit

Spanish Institute of Oceanography
Status

On going
ISO 3166 códigos de países ISO 3166 códigos de países ISO 3166 country codes (

Place

)
Códigos UNESCO Códigos UNESCO UNESCO Codes (

Theme

)

Atlantic Ocean

Temperature

Oceanographic buoys

Physical oceanography

Oceanographic equipment

Salinity

Oceanography

Seas

Oceanographic measurement

Oceanographic data
GEMET - INSPIRE themes, version 1.0 GEMET - INSPIRE themes, version 1.0 (

Theme

)

Environmental monitoring facilities
Use limitation

The IEO is not responsible for the use and / or interpretation made of the information, services, products and / or data supplied. The IEO does not guarantee the continuity in the provision of this information, either in content or in form, nor assumes responsibility for any error or omission contained therein. IEO reserves the right to modify, add or delete the information contained in its servers.
Access constraints

License
Other constraints

It is allowed to combine, transform and create new material from the original. Likewise, copying and redistribution is permitted, in any medium and / or format, provided that the following requirements are met:

i. Se incluya el reconocimiento al "Instituto Español de Oceanografía"(IEO), así como a otros organismos involucrados en la toma de datos cuando así lo indiquen los metadatos correspondientes.

ii. It includes the intellectual property rights, license conditions and discharge of responsibilities here present.

iii. A link to the original data source or DOI (digital object identifier) ​​should be included if it exists.

iv. Keep the IEO logo on all products that carry it integrated.

v. The IEO is informed through the email account cedo@md.ieo.es

vi. The adapted material is shared under the same conditions as this license.

Use for commercial purposes is prohibited.

For the rest of the conditions, check the public license Creative Commons Atribution-NonComercial-ShareAlike 4.0 Internacional (CC BY-NC-SA 4.0) https://creativecommons.org/licenses/by-nc-sa/4.0/
Spatial representation type

Vector
Metadata language

es
Character set

UTF8
Topic category
Begin date

2007-06-27T11:45:30
End date

2019-01-15T09:10:00
Geometric object type

Point
Hierarchy level

Dataset
Conformance result
Date (

Publication

)

2010-12-08
Identifier
No information provided.
Explanation

Consult the mentioned regulation.
Pass

No
Statement

Bouys basic technical features summary.

Seawatch type ODAS platform (On board Data Acquisition System)

Equipped with:

Central processing and storing unit. Power supply

Wave sensor: height sensor, direction sensor, data logger

Weather station: air temperature sensor and atmosferic pressure sensor

Conductivity and water temperature sensors

Fluorimeter

Dissolved oxygen sensor

Ocean tracker

Transceptor modem both on buoy and ground

Doppler current profiler, frecuency 300 kHz
Process step
No information provided.
Included with dataset

No
Feature types

AtlasLimpeza
gmd:MD_Metadata
File identifier

1b644485-cc7c-40a3-8db2-9a7f9fda1b2d

XML
Metadata language

es
Character set

UTF8
Hierarchy level

Dataset
Date stamp

2021-03-24T11:17:59
Metadata standard name

NEM: ISO 19115:2003 + Reglamento (CE) Nº 1205/2008 de Inspire
Metadata standard version

1.2
Overviews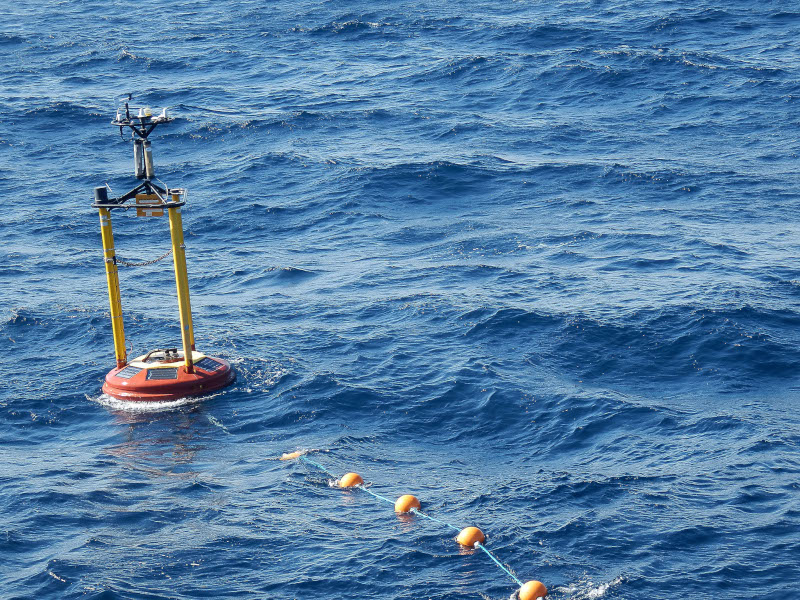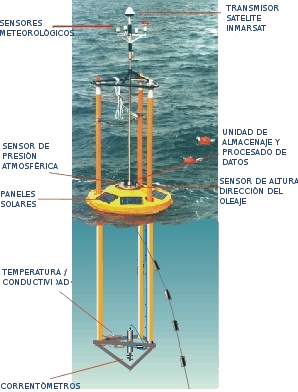 Geographic bounding box
Provided by
Associated resources
Not available