Viewer: playas.ieo.es
In 2013, the Instituto Español de Oceanografía (IEO) developed a maritime data downstream service (http://playas.ieo.es) particularly focused on providing sea surface temperature (SST) at Iberian Atlantic beaches, a parameter that, although basic for the scientific community, it was certainly rather unusual in those weather forecast reports to the wider public. Thus, although the web-service enhances the visualization of SST at more than one thousand beaches, it also provides 3-day forecast of a set of other meteo-ocean variables (air temperature, wind speed and direction, wave height, period and direction, and tides).
Simple
Date (

Creation

)

1991-06-01
Purpose

Provide maritime forecast on Iberian Atlantic beaches
Credit

Instituto Español de Oceanografía
Status

On going
ISO 3166 códigos de países ISO 3166 códigos de países ISO 3166 country codes (

Place

)
theme.unescothes.rdf theme.unescothes.rdf (

Theme

)

Viewer

Interactive web app

Oceanographic data
Keywords
Use limitation

The IEO is not responsible for the use and / or interpretation made of the information, services, products and / or data supplied. The IEO does not guarantee the continuity in the provision of this information, either in content or in form, nor assumes responsibility for any error or omission contained therein. IEO reserves the right to modify, add or delete the information contained in its servers.
Access constraints

License
Other constraints

It is allowed to combine, transform and create new material from the original. Likewise, copying and redistribution is permitted, in any medium and / or format, provided that the following requirements are met:

i. Se incluya el reconocimiento al "Instituto Español de Oceanografía"(IEO), así como a otros organismos involucrados en la toma de datos cuando así lo indiquen los metadatos correspondientes.

ii. It includes the intellectual property rights, license conditions and discharge of responsibilities here present.

iii. A link to the original data source or DOI (digital object identifier) ​​should be included if it exists.

iv. Keep the IEO logo on all products that carry it integrated.

v. The IEO is informed through the email account cedo@md.ieo.es

vi. The adapted material is shared under the same conditions as this license.

Use for commercial purposes is prohibited.

For the rest of the conditions, check the public license Creative Commons Atribution-NonComercial-ShareAlike 4.0 Internacional (CC BY-NC-SA 4.0) https://creativecommons.org/licenses/by-nc-sa/4.0/
Spatial representation type

Vector
Metadata language

es
Character set

UTF8
Topic category
Reference system identifier
Geometric object type

Point
Distribution format
OnLine resource

Playas IEO

(

WWW:LINK-1.0-http--link

)
Hierarchy level

Dataset
Conformance result
Date (

Publication

)

2010-12-08
Identifier
No information provided.
Explanation

Consult the mentioned regulation.
Pass

No
Statement

Otero, P.; González-Nuevo, G.; Tel, E.; Ruiz-Villarreal, M.; Cabanas, J.M.Insights from the development of a downstream web-service to visualize ocean and meteorological forecast data at Iberian Atlantic beaches. Bollettino di Geofisica. 57 - Supplement 1, pp. 234 - 237. 2016. ISSN 0006-6729
Process step
No information provided.
Included with dataset

No
Feature types

AtlasLimpeza
gmd:MD_Metadata
File identifier

ea776660-2436-4ae3-ac99-11a115f66e15

XML
Metadata language

es
Character set

UTF8
Hierarchy level

Dataset
Date stamp

2021-03-24T11:15:20
Metadata standard name

NEM: ISO 19115:2003 + Reglamento (CE) Nº 1205/2008 de Inspire
Metadata standard version

1.2
Overviews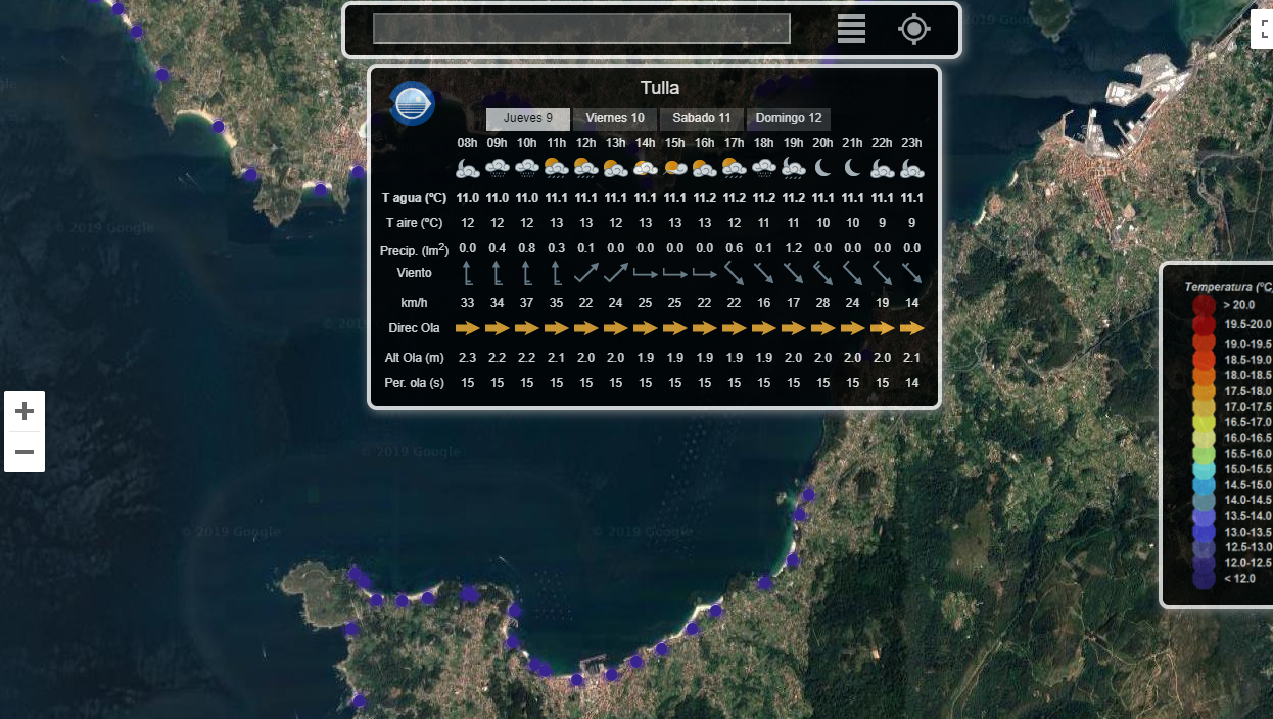 Geographic bounding box
Provided by
Associated resources
Not available